Dalai Lama urged to abandon secessionist
2007/07/29
The Dalai Lama must take concrete actions to end his advocation of "Tibetan independence", which is a premise for him to negotiate with the Chinese government, a senior official with Tibet Autonomous Region said on Saturday.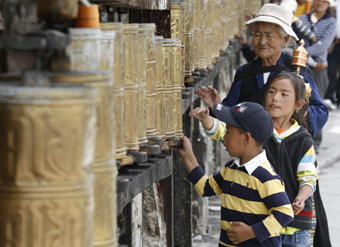 Tibetans turn prayer wheels outside the Potala Palace in Lhasa, western China's Tibet province July 28, 2007.[Reuters]

Dalai Lama's pursuit of "Tibet independence" infringes on China's sovereignty. Any negotiations with him shall be pointless if he sticks to his secessionist stance, Nyima Cering, vice chairman of Tibet Autonomous Region, told a group of 32 foreign journalists representing 19 media organizations.
The Dalai Lama's call for a "high-degree autonomy for Tibet" and the establishment of a "greater Tibet area" was just a tactical readjustment on his part and did not reflect any substantial change in his stance, said the official.
"If he has really abandoned his pursuit of Tibet independence, he would have taken solid actions. But so far we have not seen any such actions," the vice-chairman said.
The channel of communication with the Dalai Lama has been open. Since 1979, 20 personal delegations of the Dalai Lama have visited Tibet or other Tibetan areas, he stressed.
The Dalai Lama is not only a religious figure. He is first and foremost a politician. We are against the Dalai Lama and his separatist activities, not his religion, said Nyima Cering.
The majority of Tibetan people support the leadership of the Communist Party of China. However, some people are attempting to overthrow the socialist system with the help of the Dalai Lama and in the name of protecting national interests or religion.
"We are firmly opposed to such actions," said Nyima Cering, stressing that "Tibetan people cherish their current happy life as they cherish their eyes".
The boy chosen by the Dalai Lama as the reincarnation of the Panchen Lama, which is illegal and invalid, is living a normal life in Tibet. He is studying at a senior high school, his brothers and sisters are either studying or working, said Nyima Cering in response to a question from the journalists.
"The boy is patriotic. He does not want his life to be disturbed. We respect his wish," said Nyima Cering.
(Xinhua)