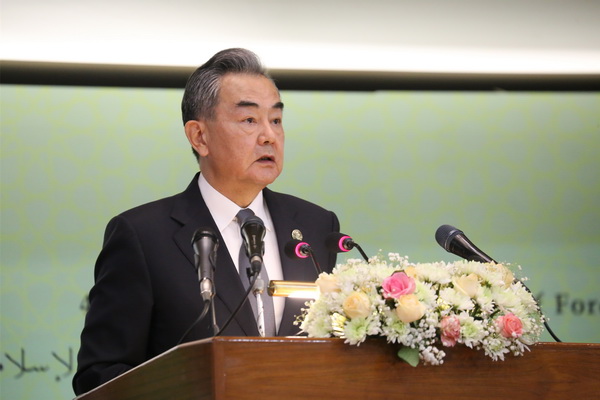 On March 22, 2022 local time, State Councilor and Foreign Minister Wang Yi attended and addressed the opening ceremony of the 48th session of the Council of Foreign Ministers of the Organization of Islamic Cooperation (OIC) upon invitation.
Wang Yi said, the Chinese foreign minister's first attendance at the session of the OIC Council of Foreign Ministers fully reflects the sincere desire of China and the Islamic world to strengthen exchanges and cooperation, and will surely push bilateral relations to a new level.
Wang Yi said, both Chinese and Islamic civilizations are ancient civilizations with important influence in the world. The exchanges between the two sides, which have lasted for thousands of years and withstood the test of international changes, have a profound historical heritage and a solid foundation of popular support. Friendship is the mainstream of bilateral relations, equality is the basis of mutual communication, and the win-win result is the goal of mutual cooperation. We always stay committed to respecting and trusting each other, and support each other's core concerns. We always stay committed to solidarity and mutual assistance, and strive to achieve common development; we always stay committed to mutual learning, and safeguard the diversity of civilizations in the world. China and the Islamic world have found a path of friendly coexistence and win-win cooperation among different civilizations, becoming a model of acting on a new type of international relations. This also provided useful experience for interactions between different countries and between different civilizations.
Wang Yi stressed, in the face of the turbulent and changing world, this session of the OIC Council of Foreign Ministers focuses on the theme of "Partnering for Unity, Justice and Development", which reflects the common aspiration of most countries in the world. China is ready to work with the Islamic world to advocate true multilateralism, uphold the purposes and principles of the UN Charter, safeguard the international system with the UN at its core, and walk hand in hand through thick and thin on the path of pursuing national rejuvenation.
First, to be partners of solidarity and coordination. We should firmly support each other in safeguarding national sovereignty, independence and territorial integrity, in exploring development paths suited to our own national conditions, and in safeguarding our legitimate development rights and interests, as well as common interests of the vast number of developing countries.
Second, to be partners of development and revitalization. We should continue to fight the pandemic in solidarity and build a defense line for people's health. We should strengthen the synergy between development strategies, take the high-quality Belt and Road cooperation and the joint implementation of the Global Development Initiative as the "twin engines", consolidate traditional cooperation, foster new highlights, help China and the Islamic world develop and revitalize, lead the trend of South-South cooperation, and inject strong impetus into the realization of UN 2030 Agenda for Sustainable Development.
Third, to be partners of security and stability. China will continue to support Islamic countries in drawing on Islamic wisdom to solve current hotspot issues such as those related to Palestine, Afghanistan and Ukraine, and firmly holding the key to maintaining stability and promoting peace in their own hands.
Fourth, to be partners of mutual learning among civilizations. We should uphold peace, development, equity, justice, democracy and freedom, the values shared by all, and oppose creating division and confrontation by drawing ideological lines. We should oppose the ideas of "superiority of certain civilization" and "clash of civilizations", and the distortion and discredit of non-Western civilizations. We should deepen cooperation in preventive counter-terrorism and de-extremism, resist "double standards" in counter-terrorism, and oppose linking terrorism with any specific ethnic group or religion.
Wang Yi said, history has proved and will continue to prove that China is a sincere friend and partner of the Islamic world. We are ready to work with Islamic countries to promote the development of a multipolar world, democracy in international relations, and diversity of human civilizations, and make unremitting efforts to build a community with a shared future for mankind.
The session was held in Islamabad, the capital of Pakistan, from March 22 to 23, and attended by foreign ministers and representatives from more than 60 countries.