Investors say more SEZs will help Africa
2018/07/23
African countries are planning special economic zones to act as catalysts for the continent's industrialization.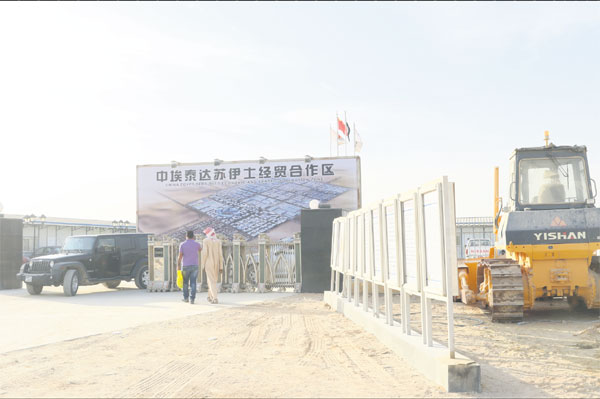 The $230 million (196 million euros; £173 million) China-Egypt Suez Economic and Trade Cooperation Zone developed by TEDA Special Economic Zone Development Co. Liu Hongjie / China Daily
Chinese State-owned and private companies have won bids to design, develop and manage them, riding on successes back home that enabled the country's meteoric rise onto the global stage.
Nevertheless, in spite of a notable increase in the willingness of Chinese private investors to set up in Africa, they say their plans have been held back due to the unavailability of fully operational special economic zones, or SEZs.
During a recent trade visit to Nairobi, Kenya, by entrepreneurs from Guangzhou and Foshan, Guangdong province, the discussion focused on how the Sino-African relationship can be shifted from trade to investment.
The benefits of such a move were seen as twofold. First, by using Chinese investment and technical expertise in the nascent manufacturing sector, export volumes can be improved, ultimately bridging the yawning trade deficit. Second, investment in light industries has the potential to create millions of jobs, consequently checking the illegal flow of young Africans to Western countries.
Therefore, plans for SEZs must be accelerated, the entrepreneurs said.
The benefits of such zones were realized in China four decades ago. They were catalysts for market-oriented reforms and helped deepen the country's opening-up and reform process, thereby unlocking foreign direct investment inflows. SEZs are estimated to have created more than 30 million jobs, increased the income of farmers by 30 percent and accelerated industrialization, agricultural modernization and urbanization, said Xian Weijian, chairman of the Guangdong Association.
"Business brings communities together and gives direction to long-term relationships," Xian said during the meeting. "We are looking for opportunities in Africa to provide healthy returns on investment. But this will only be possible in an enabling environment."
SEZs are demarcated areas with regulatory, legal and economic conditions that are different from the rest of the country. The rules are designed to lower the cost of doing business by providing flexible investment conditions, lower tax rates and attractive international trade regulations. The successes of these economic regimens are then replicated elsewhere to widen economic growth.
Africa has begun deep structural transformation, engendered by the African Union. The aim is to boost Africa's share of global manufacturing GDP from the 11 percent recorded in 2014. Experts blame sluggish growth on poor policies.
"We have seen how SEZs strongly impacted China, and so we are betting on their technical and financial assistance in developing zones, in addition to managing them," Adan Mohamed, Kenya's Cabinet secretary for industrialization, told the visiting entrepreneurs. "Our approach is pragmatic and reform-oriented."
Tanaka Chitsa, an economic analyst based in Lusaka, Zambia, said: "Estimates have shown that a fully operational zone can generate millions of jobs within a decade or two. This is besides other fundamental benefits, such as attracting international capital, technology and technical and managerial expertise that stimulate industrial development."
Through the Forum on China-Africa Cooperation, China has established five zones in Ethiopia, Egypt, Zambia, Mauritius and Nigeria. This follows commitments made by China in 2000 to share its experience in investment promotion and management of SEZs with African countries.
The zones have attracted Chinese private investors. In Lusaka, at least 75 percent of the tenants of the Zambia-China Economic and Trade Cooperation Zone are Chinese.
"They are confident settling here because we provide a familiar and predictable environment," said Zan Baosen, the zone's managing director, in an earlier interview. The zone has modern infrastructure such as roads and amenities including water and sanitation. Other foreign investors find the facility to be attractive and competently run by its Chinese managers.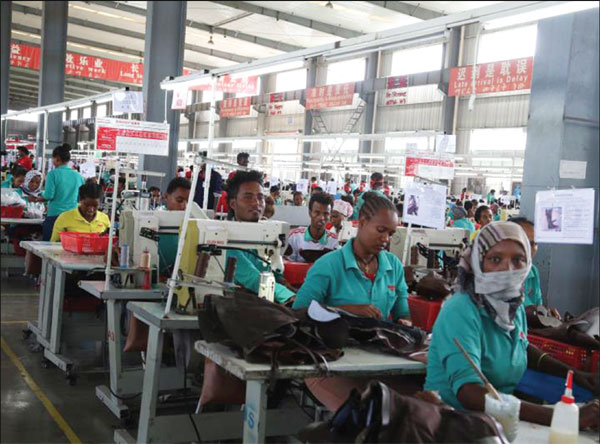 Local employees work at Huajian Shoe Factory, which is located at Ethiopia's Eastern Industrial Zone. Dith Mutethya / China Daily
The story is similar in Ethiopia. The country has at least four fully operational industrial zones, according to Industrial Parks Development Corp. The government has partnered with Chinese State-owned companies in designing and developing Bole Lemi I, the country's first industrial park. It has consequently attracted a heavy Chinese presence and other international investors. Companies established there include George Shoes Group and Nitton Apparel Manufacturing from China, Ashton Apparel and Vestis Garment Production from India, Jay Jay Textiles from Sri Lanka and Shintis Garment from South Korea.
Success in these government-led zones has given Chinese investors an appetite for lucrative deals, either by building zones or investing in them. According to Helen Hai, the goodwill ambassador of the United Nations Industrial Development Organization, her move to establish a shoe factory in Addis Ababa in 2011 served as a beacon for other enterprises, especially Chinese, to invest in Ethiopia.
"Other African countries, including Rwanda and Senegal, have sought my advice on how to design and manage attractive zones to capture Chinese outbound direct investment," she told an investment forum in Egypt last year.
The Chinese entrepreneur said businesses in Ethiopia pay 10 times less than the average wage in China. This, coupled with trade agreements with the European Union and the United States, makes Africa an attractive proposition, especially for Chinese investors, she said.
Despite the success of Ethiopia, Egypt leads the way among African nations in receiving foreign direct investment. In the recently released World Investment Report by the UN Conference on Trade and Development, the North African country continued to be the largest recipient, with $7.4 billion (6.3 billion euros; £5.5 billion) last year.
"The inflows were supported by a large increase in Chinese investment across light manufacturing industries and wide-ranging economic reforms beginning to pay off. Financial liberalization, for instance, fostered more reinvestment of domestic earnings," said the report, released in June.
China has established the Suez Economic and Trade Cooperation Zone in Egypt.
Kenya, however, cannot boast such an achievement. According to the UNCTAD report, foreign direct investment in the country was $672 million last year and hinged on strong domestic demand and inflows in the information and communication technology sectors. This was despite the country having a relatively strong political and social environment.
Nevertheless, Kenya is betting on better fortunes following the completion of the first phase of its modern railway infrastructure, and is embarking on the second phase which will eventually link the port city of Mombasa to Uganda, Rwanda and the Democratic Republic of Congo. Three SEZs have been planned along the route, and the government is aggressively marketing them.
"We have enacted policies and regulations for SEZs and look forward to Chinese investors establishing businesses here," said Mohamed, Kenya's Cabinet secretary for industrialization. "We are providing incentives to encourage the Chinese business community to produce their products here so that they can reach the continental market."
The idea of establishing prominent economic zones is not new to Africa. In the 1960s and '70s, countries set up zones that emulated other regions. Despite robust growth, difficulties in global economic growth and poor technical expertise hampered progress. In Kenya, 44 textile exporting companies, which directly or indirectly employed 32,000 people, invested in the textile and apparel sector to take advantage of the United States' African Growth and Opportunity Act. The number of investors has steadily dwindled, however, with enterprises citing high operational costs and moving their factories to cheaper locations.
The situation has prompted the government to seek another approach. According to Moses Ikiara, the managing director of the Kenya Investment Authority, or KenInvest, the government agency that markets Kenya as an investment hub, Kenya exports 80 percent of its finished products to Western countries. "The remaining 20 percent cannot meet the growing domestic and continental market demand created by the signing of the (African) Continental Free Trade Area agreement, which enables intra-Africa trade in finished products," Ikiara said at the meeting.
He said SEZs will be an attractive proposition for Chinese investors. "There has been a remarkable increase in their investment in Kenya over the last five years. These zones would be a development nucleus to trigger a robust investment partnership between China and Kenya."
Nevertheless, development of government-led zones is sluggish, weighed down by financial constraints. Africa's infrastructure needs amount to $130 billion to $170 billion a year, with a financing gap in the range of $68 billion to $108 billion, according to new estimates by the African Development Bank.
The continent suffers from a serious energy deficit and lacks modern, efficient transportation infrastructure. To improve infrastructure, governments have resorted to external borrowing, raising concerns over their ability to repay. But according to Anzetse Were, a development economist based in Kenya, governments need to build ecosystems around the mega infrastructures to make them viable. "The borrowing appetite will continue as more African countries implement their infrastructure plans. But I also think it is time to tap the brakes and look at maximizing the potential of these projects," she says.
Location of the zones is also an issue. Unlike successful examples in China, where the initial zones were located near seaports to lower transportation costs, zones in Africa are yet to leverage on their comparative advantages, thus increasing production costs.
However, private-led development has been able to overcome such challenges. A fourth SEZ in Kenya, built by Guangdong New South Group Ltd, is setting up its own infrastructure. Located in western Kenya, the $1.94 billion zone plans to establish a 94-megawatt power plant to provide reliable and affordable power.
"This will be the gateway to the northern corridor that includes Uganda, Rwanda, South Sudan and Burundi," said Deng Yu, the CEO of Africa Economic Zone Pearl River.
He said Chinese investors are confident not just about their return on investment but also on the zone's management.
"There are no inconsistencies once an investor launches their business here, no additional costs on rent, no inflated electricity bills," Deng said. "Our office takes care of them and their business."
Deng added that his company is aggressively marketing the zone in China and locally. "Two public universities and technical colleges will be located in the zone to provide necessary technical and research and development requirements for the investors. This is an important requirement for the sustainability of the business."
Meanwhile, as an example of high-level political commitment and support for boosting investment, Ethiopia has established a committee that is chaired by the prime minister and headed by a Cabinet minister, who receives and addresses challenges reported by investors. This has eased coordination among ministries and sped up executive decisions that have pushed forward the success of the zones, said Ikiara from KenInvest, whose office recently led a fact-finding mission to Ethiopia as Kenya prepares to launch a similar committee to speed up plans and budget allocations.
"Issues such as land allocation, compensation, incentives and attractive taxation regimes are agreed and implemented faster using this committee," Ikiara said. "Kenya's progress has always been hampered by bureaucracy among relevant departments. Deliberate efforts to encourage local firms to settle in the zones need to be launched. Partnerships between foreign and local companies will strengthen linkages.
"Alternative financing models should be pursued to address financial constraints faced by developers and investors."
lucymorangi@chinadaily.com.cn